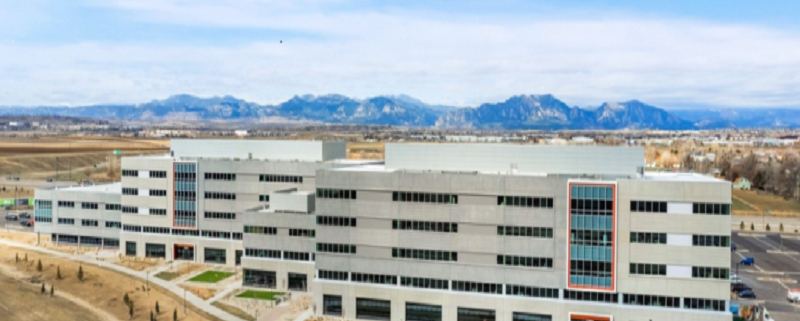 Real Capital Solutions (RCS), a Louisville, Colo.-based real estate investment and management firm, announced that it has acquired the newly completed, two-building, 404,149 square foot life sciences campus of the global medical device company Medtronic in Lafayette, Colo., about 12 miles east of Boulder.
RCS has confirmed to local news media that the purchase price was $188 million. The previous owner and presumed seller of the real estate was Ryan Lafayette LLC, a partnership associated with the developer, Minneapolis-based Ryan Companies US Inc.
The single-tenant, net-leased asset includes two connected five-story buildings at 200 and 250 Medtronic Drive, near the intersection of U.S. Highway 287 and Northwest Parkway, at the southernmost edge of Lafayette. Medtronic has a 20-year lease on the build-to-suit facilities.
Adam Abeln, chief acquisitions officer for RCS, said the Medtronic Lafayette Campus deal was the largest acquisition in the firm's 40-year history. He also said RCS has done multiple deals with Ryan Companies over the years and had monitored the development of the campus.
"What interests us about Medtronic was just the credit quality, the name, the fact that they're the world's largest medical device producer and the fact that it fits within our strategy today," Mr. Abeln told the Business Journal, adding that Medtronic's long-term lease on the property made it an attractive deal in an uncertain real estate market.
RCS Plans To Keep Buying
Mr. Abeln also told local media that the firm plans to keep buying.
"Near-term, we believe commercial real estate values, especially in multifamily and office, will fall and defaults will rise," Mr. Abeln told Colorado Biz. "The next six to 18 months will be tough for many owners, particularly those who will need to refinance. We have strong relationships with lenders and plan to be major buyers, especially here in Colorado."
He added that RCS has been positioning itself for this downturn for some time, selling much of its at-risk portfolio, amassing cash, and investing in similar high-credit, STNL deals for itself and other ultra-high-net-worth families who are concerned about capital preservation.
However, Mr. Abeln told the Business Journal that RCS plans to adjust its strategy by pursuing more "value-add, opportunistic" multifamily, office, retail and industrial deals, rather than focusing solely on "safe" STNL properties.
According to its website, RCS "is a highly entrepreneurial real estate company that invests smart capital and provides practical solutions for real estate opportunities. For over 30 years, RCS has achieved great success investing in entrepreneurial real estate ventures."
During that time, the firm says, it has acquired and managed more than 370 real estate assets, totaling about $3.5 billion in acquisition value. It currently owns 70 properties with more than $2 billion in assets under management (AUM).
Plans Call For Additional Development
The site plan for the Medtronic Lafayette Campus, which was approved by city officials in March 2021, included a potential second phase of the project that would include a third five-story building and a three-level parking structure. That future project could boost the size of the campus to nearly 600,000 square feet, with total employment of about 2,000. The timetable for the phase two development has not been disclosed.
Before selecting the Lafayette campus, Medtronic reportedly considered sites in Minnesota and Texas, as well as the possibility of expanding to the former StorageTek campus, now called Redtail Ridge, in Louisville.
Ryan Companies and Medtronic broke ground for the Lafayette campus in June 2021. At the time, Medtronic said it planned to invest $200 million in the new campus, which would create 1,100 jobs and unite employees from its other Colorado facilities.
At the time, Medtronic noted that it had maintained a presence in Colorado for almost 50 years, with facilities in Boulder and Louisville, and employed about 2,300 people across the state. The firm said it would maintain manufacturing operations in Boulder and Louisville, and shift R&D work to the new Lafayette campus, which would include about 60,000 square feet of R&D space, along with some administrative functions.
When ground was broken, Medtronic Chairman and CEO Geoff Martha said, "Medtronic medical technology developed and manufactured in Colorado transforms patient care globally, and we anticipate continued innovation at our new Lafayette campus. We look forward to coming together at a single campus to bolster our presence in Colorado and position ourselves for growth. In addition, we are investing in this innovation center and new campus to attract and retain technology talent in this tech-rich region of Colorado."
Colorado officials also welcomed the construction project and the ongoing boost the campus would give the local economy, particularly coming on the heels of the downturn associated with the COVID-19 pandemic.
"We're thrilled with Medtronic's investment in Colorado," the state Chief Economic Recovery Officer and Executive Director Pat Meyers said at the time. "This new campus will allow for good jobs, innovation, and employee wellness, all of which are critical to powering the Colorado Comeback."
Medtronic, whose U.S. headquarters is in Minneapolis, is owned by Dublin, Ireland-based Covidien, a global healthcare products and medical device manufacturer. According to a news release from Medtronic, the 42.2-acre Lafayette campus is its second largest in the United States. The firm says it has sites in more than 350 locations in more than 150 countries.
Source: HREI
https://medspaceusa.com/wp-content/uploads/2023/08/LifeSciences-MedtronicLafayetteCOCampus-3-768x344-1.png
533
800
MedSpace USA
https://medspaceusa.com/wp-content/uploads/2023/04/MedSpaceUSA-Logo_website-header-300x83.png
MedSpace USA
2023-08-29 19:09:02
2023-08-29 22:24:11
Real Capital Solutions Buys 404,000 SF Medtronic Campus Near Boulder For $188M